Skip to Main Content
It looks like you're using Internet Explorer 11 or older. This website works best with modern browsers such as the latest versions of Chrome, Firefox, Safari, and Edge. If you continue with this browser, you may see unexpected results.
Bluffton University Memory
Read more wartime correspondence from Bluffton College students and staff online at Bluffton University Memory: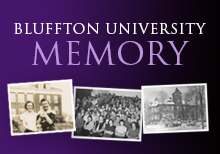 LETTERS HOME...
The Bluffton University Archives contains scores of letters between President S.K. Mosiman and other college personnel and Bluffton men in wartime service. Whether draftees or enlisted, in military or non-combatant roles, Bluffton remained a source of strength, support, and fond memories for the men who hoped to return to its halls.
H.W. Berky at Picatinny Arsenal, New Jersey
William H. Egly and Homer O. Moser, both at Camp Gordon, Georgia
Elmer M. Kennel, at Base Hospital Unit #112, Brest, France
G.A. "Dad" Lehmann at Camp Alfred Vail; Little Silver, New Jersey
Vernon C. Ramseyer at Camp Dodge, Iowa, and later, La Valbonne, France
Abram Rickert at Camp Sherman; Chillicothe, Ohio
Wilmer Shelly at Camp Grant, Illinois
Edwin "Eddie" Stauffer at Fort Myer, Virginia